US Visa and ESTA information
---
Apply for an ESTA Direct with Immigration Travel Services: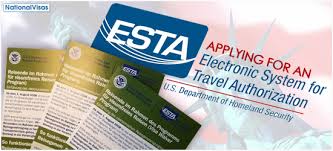 You can make the process of applying for your ESTA as easy as possible when you apply with Immigration Travel Services. We will assess your requirements and apply on your behalf,
for a total charge of $29.
Live Assistance - Immigration Travel Service has a customer service centre and you can email a professional with all your ESTA questions.
Automated System Updates - Immigration Travel Service will check for approval on the traveller's behalf and notify the traveller when approval has been issued.
Email Confirmation - Travelers receive immediate confirmation and ESTA application reference number in an email, as well as the validity date of an approved ESTA, so the traveller will know when the ESTA is about to expire.
---
What is an ESTA?
To make your visit to the United States, you must either travel under the country's Visa Waiver programme (with an 'ESTA'), or have a US visa (or be a US citizen, of course).

An ESTA allows you to stay in the US under the Visa Waiver programme for up to 90 days and allows travel to Mexico, Canada and the Caribbean.
An ESTA is valid for two years, (or less if your passport expires in that time).
---
Countries Applicable for the Visa Waiver Programme
If you are from one of the following countries you can travel under this programme:
Applicable countries
| | | |
| --- | --- | --- |
| Andorra | Hungary | Norway |
| Australia | Iceland | Portugal |
| Austria | Ireland | Republic of Korea |
| Belgium | Italy | San Marino |
| Brunei | Japan | Singapore |
| Chile | Latvia | Slovakia |
| Czech Republic | Liechtenstein | Slovenia |
| Denmark | Lithuania | Spain |
| Estonia | Luxembourg | Sweden |
| Finland | Malta | Switzerland |
| France | Monaco | United Kingdom |
| Germany | The Netherlands | |
| Greece | New Zealand | |
If you don't come from one of these countries, you'll need to apply for a visa via the US Embassy.
---
ESTA Application Requirements:
To obtain your ESTA:
You must apply at least 72 hours before you travel.
You must hold an individual machine-readable passport (if you don't, you'll need to get a visa instead).
Provide accurate information on your ESTA application.
Usually you will receive a response in seconds, but for very few passengers it could take up to 72 hours.
If your ESTA is denied, you will need to get a visa.
If you already have a visa for the US, you will not need an ESTA.
You must apply online for your ESTA - either direct with Immigration Travel Services

or directly with

Homeland Security, More information is provided below on both these recommended options.
---
Born in the US but hold a non-US passport?
A change in US government policy now means that anyone born in the United States is considered to be a US citizen. As a result, if you were born in the US but don't hold a US passport, you'll need a 'loss of nationality letter' to enter the country.
Please note that we are not able to carry passengers in these circumstances unless they have this letter, which can be obtained from the US embassy.
---
Apply for an ESTA Direct with US Homeland Security:
You can apply for your ESTA directly with US Homeland security, at a charge of $14. Useful information about your ESTA application:


Applications are usually instantaneous - For those applications which are not immediately approved, travellers are required to continue to constantly log in to the Government website to check for ESTA application approval.
Please take note of your application number - Once an application is submitted and processed successfully, an email confirmation will not be generated. So it is advised to print the confirmation web page, or jot down your application number for safe keeping and future reference.
Passport expiration check - If you apply for an ESTA when your passport has expired, or is about to expire, you may not receive notification from the Government that travel cannot be permitted. So please ensure your passport is valid when you apply for your ESTA.
For more information about your ESTA application please view US Gov's

dedicated FAQs